The Climb up Mount Kilimanjaro in Kenya
£4000 Raised by the Lodges and Chapters in Forfarshire and Scotland - Includes the Royal Arch Chapters, Provincial Grand Royal Arch Chapter of Angus and Mearns and Provincial Grand Lodge of Forfarshire.
Report by Bro David Taylor, Lodge Albert No.448
It started with an email. A simple request really. Would anyone in the Caring Matters Now support group be prepared to climb Mt Kilimanjaro in Africa to help the charity raise funds?
I scoffed. I remember thinking at the time that those who did were crazy/brave/admirable/mountaineers....not like me! It was my wife who told me that I was the very least "crazy", and that I could work at the other 3 on the way there. And so, I set about becoming brave enough to climb that mountain and become admired.
Sponsorship was an initial concern- I needed to raised £4000 or I would not be able to climb. I sent letters to every Lodge and Chapter in the province, PGL, PGC, SGRAC and GLOS. To a man, and brother, Freemasons once more stepped up to the mark and provided to a brother in need. Charity is indeed twice blessed.
A training regime was downloaded a year prior to departure, printed and then promptly filed. A gym membership was taken out and admired from afar. A kit list was also downloaded and filed immediately in front of the training regime. Perhaps I wasn't taking this seriously enough...perhaps I should have been reminded of the 24 hours of the day and directed them to their proper objects. After all, skill without exertion is of little avail. So I started reading through the training regime. I started attending the gym. My wife started buying essential kit because she's good at that.
Soon I found myself in the wilds of Scotland, trudging my way up and down bleak mountain trails in an attempt to gain the necessary levels of fitness. Another fun trip was the one to the John Mills University campus in Liverpool where we enjoyed the high-altitude chamber and the reduction in oxygen levels. We were then cheerily informed that it would be much worse on Kilimanjaro. MUCH worse!
Also of concern were the inoculations and medical kit. Appointments were made with doctors and nurses; the result being my left arm resembled a pin cushion. I also began a collection of pharmaceuticals which would put Dr Findlay and his casebook to shame. We had heard horror stories of altitude sickness which, in acute versions, can cause High Altitude Pulmonary Edema (HAPE) or High Altitude Cerebral Edema (HACE) both of which can be fatal. I neither wanted nor welcomed fluid in my lungs or my brain thank you very much! Fortunately, the drugs to combat both of these (a potent combination of diamoxx, motion-sickness tablets and ibuprofen) were invaluable. We were also mindful of malaria, Dengue fever, cholera, yellow fever.......... what on earth were we doing?

Soon, however, we found ourselves in Africa, Nairobi to be precise. The flight itself was pleasant enough, interrupted only by a stunning view of Mount Kenya on the way. Nairobi airport was hot, sticky and dirty, as were its occupants. We were also tired and faced an 8 hour stop-over. Many of our party slept, some sat in the food court while others went shopping. I think I may have experienced all three at various stages of that stop-over. It was therefore delighfult to arrive at Kilimanjaro International later in the day where I presented my Yellow Fever inoculation certificate with delight- no certificate means no entry you see!
We settled into the tranquillity of the KIA Lodge apartments with its view of the Kili summit in the distance. Conveniently, this view could be enjoyed from the outdoor pool with its bar close by. We spent a long time admiring the peak of Kilimanjaro from here......
4x4s arrived to take us on the 2 hour journey to the Londrossi Gate the following morning. However, judging by the state of some of them, 2x4s may have been a more appropriate description! The "road" to the gate was as bad as the driving- surely they could see the cyclists and lorries approaching us? Apparently, it seemed not....
The first camp was an oasis which welcomed the weary. Forest Camp (more commonly known as Big Tree Camp) was, we were told, the only site where our tents would be relatively close. And they were right! The sites which followed more closely resembled lunar landscapes, and the atmosphere much the same given the spaces between tents!
"Mvua Inanyesha" in Swahili means "It is raining". We found this out during day 2 when rain of Biblical proportions drenched our party. At one point I pointed out to our guide that I could not see our trail beyond a flowing torrent in front of me, to which I was informed that the flowing torrent WAS the path. And so we trudged on...
And on...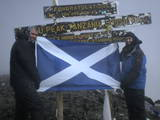 Square conduct, level steps and upright actions....
And how that lecture became at the forefront of my thoughts in my darkest moments during the early hours of October 10th 2011. At temperatures approx -30°C and having already seen 4 of my companions sent back down, my second degree tools charge resonated through my brain. I just kept going, kept going, kept going......because perseverance is necessary to establish perfection.
And then, at 9.46 I made it. For 15 beautiful minutes I stood at that summit. Looking at my battered companions I felt immense pride and relief, and I was instantly overcome with emotion- an outpouring so overwhelming that I sank to my knees in thanks.
And then..... we came home.

Formed in 1736 theGrand Lodge of Scotland is the governing body for all Freemasonry in Scotland.
The Provincial Grand Royal Arch Chapter of Angus and Mearns

Formed in 1861 the Provincial Grand Royal Arch Chapter for Angus and Mearns is the governing body for Royal Arch Masonry in this area.

Website of the Friends of Dundee City Archives