George Stirling Draffen, M.B.E. of Newington
He was initiated into Lodge Progress in 1931. Affiliated to Lodge No.1373 and Master in 1938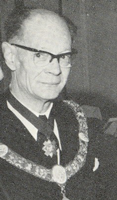 Initiated in Lodge Progress, No. 967, in 1931. Affiliated to Lodge Loretto Centenary, No. 1373, in 1934 and Master thereof in 1938. A member of The Lodge of Edinburgh (Mary's Chapel), No. 1, in 1940. Founder Member of Lodge Sir Robert Moray, No. 1641. Elected to Grand Committee in 1949. A member of the Overseas and External Affairs Committee (Chairman 1956—62 and 1972-74) and Publications Committee (Chairman 1981-85). A member of the Museum and Library Com­mittee and of the Special Purposes Committee. Representative from the Grande Loge Nationale Francaise and from the Grand Lodge of Switzerland "Alpina". A member and Honorary Past Master of Lodge Glittering Star, No. 322 (I.C.), (1937). A Past Master of Quatuor Coronati Lodge, No. 2076 (B.C.), and of the Grafton Lodge, No. 2347 (E.C.). Member of the VillarddeHonnecourt Lodge, No. 81 (G.N.L.F.), and holder of their "Compas de Libergier" medal. A Past Grand Deacon and the Prestonian Lecturer for 1956 in the United Grand Lodge of England. Editor of Grand Lodge of Scotland Year Book (1952-70,1972-76 and 1981-85). An Honorary Junior Grand Warden of the Grande Loge Nationale Francaise. Proxy District Grand Master of Sierra Leone and The Gambia.
George Draffen also had Draffen's Department Store in Dundee - situated on the West side of Whitehall Street, corner of Nethergate.
From local records
Draper
5 Glamis Road
Dundee
Initiated – 19th March 1931, Passed – 2nd April 1931, Raised – 16th April 1931, Mark – 30th April 1931.
Courier and Advertiser 4th November 1939
A.F.S. Commandant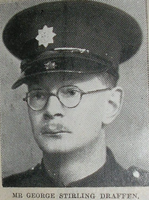 Mr George Stirling Draffen, who was appointed commandant of Dundee Auxiliary Fire Service, is son of Mr and Mrs W. Stirling Draffen. He was one of the earliest volunteers to join the A.F.S., Dundee's wartime organisation against the menace of air raids.
A director of Draffen & Jarvie, Ltd., since 1934, at the outbreak of war Mr Draffen left business to devote his services to the A.F.S. This service he is giving gratuitously. The organisation will shortly move into new premises at Shaw's garage, Ward Road. Mr Draffen has taken a keen interest in the work since the inauguration of the service.
He was educated at Wytchwood School, Moffat; and at Loretto, where he served in the O.T.C.
He travelled with the schoolboy's tour to Australia in 1927, and was then for a short time in the offices of Messrs Henderson & Logie, C.A., in Dundee. Prior to joining Draffen & Jarvie Ltd., in 1932, Mr Draffen went to Aberdeen for three years with Messrs Watt & Grant, Ltd, Union Street.
As a director of Draffen & Jarvie, Ltd., Mr Draffen was until the outbreak of war in charge of advertising and maintenance, in addition to supervision of certain departments. In 1938 he went on a 'busman's holiday' to America with Mr J.J. Draffen, chairman of the firm.
Mr Draffin was a member of Lodge Progress No. 967, and Past Master of Lodge Loretto, Edinburgh.
As Editor of the Grand Lodge of Scotland Year Book for many years he became one of the foremost Masonic scholars of his generation.
©Research by Iain D. McIntosh, 2014

Formed in 1736 theGrand Lodge of Scotland is the governing body for all Freemasonry in Scotland.
The Provincial Grand Royal Arch Chapter of Angus and Mearns

Formed in 1861 the Provincial Grand Royal Arch Chapter for Angus and Mearns is the governing body for Royal Arch Masonry in this area.

Website of the Friends of Dundee City Archives