Professor D'Arcy Wentworth Thompson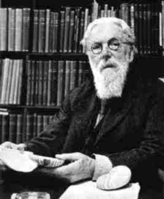 On the 29th May 1885, along with Principle Peterson, he was initiated into Freemasonry, by Brother David Henderson, R.W.M. of Lodge Operative No. 47 in the Queens Hotel Dundee. This ceremony was especially arranged for the visit of the Grand Master Mason Col. Archibald Campbell of Blytheswood to Dundee.

In 1884 he was appointed Professor of Biology in Dundee (incorporated as part of the University of St Andrews in 1897) and later the title of his chair was changed to natural history. He set to work building up a zoology museum in Dundee to be used both for teaching and research.

In 1898 he was appointed to the Fishery Board for Scotland. He was a British representative on the International Council for the Exploration of the Sea from the time it was set up in 1902. While he was professor in Dundee, Thompson married Ada Maureen Drury in 1901. They had three daughters.

While at Dundee he also became a founder member of the Dundee Social Union. He pressed for it to buy four slum properties in the town, which they renovated so that the poorest families of Dundee could live there. In 1917 D'Arcy Thompson was appointed to the Chair of Natural History in St Andrews. He was to hold a chair for 64 years, a record which will never be broken. He was a Greek scholar, a naturalist and a mathematician. Elected a Fellow of the Royal Society of London in 1916 and was vice-president of the Society in 1931-33. He was awarded the Darwin Medal of the Society in 1946:

He also received recognition for his mathematics, being made an honorary member of the Edinburgh Mathematical Society in 1933. He was President of the Classical Association in 1929 and President of the Royal Society of Edinburgh in 1934-39. He received the Linnean Gold Medal from the Linnean Society in 1938. He was knighted in 1937. He was born on the 2nd May 1860, in Edinburgh and he Died: on the 21st June 1948 in St Andrews.
©Transcribed by Iain D. McIntosh, 2014

Formed in 1736 theGrand Lodge of Scotland is the governing body for all Freemasonry in Scotland.
The Provincial Grand Royal Arch Chapter of Angus and Mearns

Formed in 1861 the Provincial Grand Royal Arch Chapter for Angus and Mearns is the governing body for Royal Arch Masonry in this area.

Website of the Friends of Dundee City Archives