1591 Charter of James VI to the Masons, Wrights, Slaiters etc in Dundee
Charter of James VI to the masons, wrights, slaters etc. in Dundee giving them rights to elect a deacon etc. Registered in SRO, PS. 1/63, ff.208r. There is no sign of any attempt to implement the charter.
"James Be the grace of god king of Scottis To all an sundrie oure ligis and subjectis quhome it effirs qu[ha] have knawlege th[e]n o[u]r l[ett]res sal cum greting: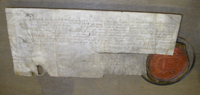 Wi[tnes] Ye We to have gevin and grantit and be thir o[u]r letters gevin and grantis libertie fredome and full-power to all masouns wrychtis coll[?] sklateris and utheris craftismen that wirkis be square rewle; lyne; or compass under the airt of geomatrie dwell and and resident within the burgh of Dundie to elect and chuse yeirlie at michaelmas thair awin deacon of craft And to hald thair courtis and assemblies be thame selffis for guid oudour taking concern anent their craft Sicklyke and als frielie in all respectis and condiciounis as ony uther craft exerteis the same within our said burcht or as the craftis hes broucht and usen within our brough of Edinburt.
Gevin under our privie seile at halierudhous the sext day of Merche the yeire of god jai vc four scouris ellevin yeiris and of oure reigne the twentie five yeis.
Per Sign'
Minibus subscribitis"
Free Modern Translation of the Above
JAMES By the Grace of God King of Scots:
To All and sundry our lieges and subjects who it affects to have knowledge, to these our letters shall come:
GREETING:
Witness Ye that We have given and granted, and by these Our Letters have given and granted liberty, freedom and full power to all masons, wrights, [dykers?] slaters, and other craftsmen that work by square rule, line or compass under the art of geometry, who are dwelling and resident within the Burgh of Dundee;
To elect and choose yearly at Michaelmas [29th September], their own Deacon of Craft, and to hold their courts and assemblies by themselves, for good order in anything concerning their craft, similarly and as freely in all respects and conditions as any other craft exerts within our Burgh of Edinburgh.
Given under Our Privy Seal at Holyroodhouse, 6 March 1591/2 (before 1600 the Scottish New Year started on Lady Day/Annunciation on 25 March. Although the document is dated 1591 it would be 1592 by present reckoning], in the twenty-fifth year of Our Reign.
I am grateful to Mr Innes A. Duffus, Archivist to the Nine Trades Incorporated Trades of Dundee for this translation (Iain D. McIntosh)

Formed in 1736 theGrand Lodge of Scotland is the governing body for all Freemasonry in Scotland.
The Provincial Grand Royal Arch Chapter of Angus and Mearns

Formed in 1861 the Provincial Grand Royal Arch Chapter for Angus and Mearns is the governing body for Royal Arch Masonry in this area.

Website of the Friends of Dundee City Archives